Remote monitoring & telecare for your patients with ResMed AirView patient management system
With our built-in wirelessly enabled AirSense™ 10, AirCurve™ 10 and Lumis™ * devices you can stay more connected than ever before to your patients.
AirView is a seamless, cloud-based system. It enables you to monitor and change your patients' device settings remotely without having to leave your desk. And it makes it easier to simplify workflows and collaborate more efficiently across the patient's care network.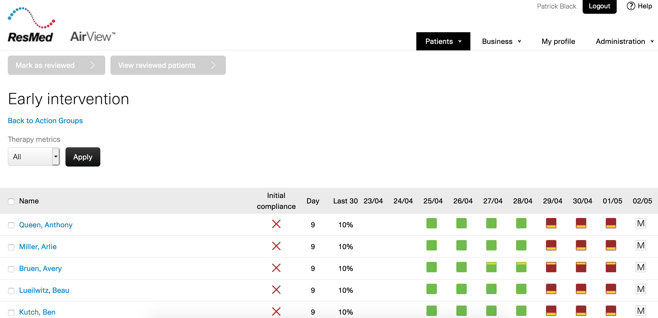 Troubleshoot with AirView remote assist
Using AirView's remote assist feature, you can provide your patients with remote troubleshooting – helping to avoid unnecessary patient visits or lengthy phone calls to resolve issues.

Reporting made easy. One-click compliance reports mean more time for patient care and less time spent on administration.
A secure system. AirView is built to be secure and compliant with HIPAA and other privacy legislation. Hosted in a secure data centre located in the ResMed-owned facility in San Diego, further security is provided by password protection, role-based access and data encryption. Click here to learn more about ResMed AirView Security.
Access data anytime, anywhere. By activating remote monitoring, you can change therapy settings anywhere, anytime. This may reduce lengthy phone calls, unnecessary device returns and unscheduled home visits.